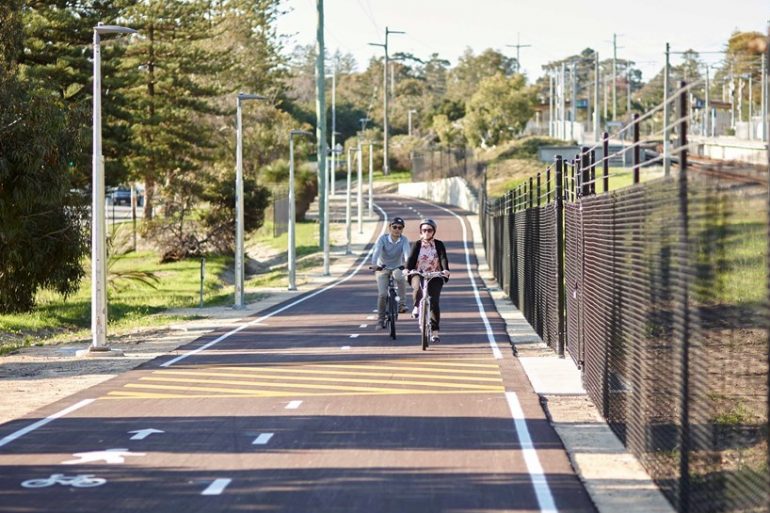 The Arbor Centre is delighted to announce that it has recently been awarded a pilot contract to deliver its Infrastructure Protection service 'Fortress5', initially, for two PSP's within the Main Roads WA network.
Within the scope of the contract, Arbor Centre will deliver a range of Infrastructure Protection consulting and works on Principle Shared Paths (PSP's) located along the Perth to Midland railway line at Roe Highway and Guildford Road. These PSP's are part of the broader network of Pedestrian and Cycle Paths enjoyed by significant numbers of public users each year, that are owned and managed by Main Roads.
The Arbor Centre were engaged last year to participate in evaluating how Main Roads could improve the longer-term maintenance outlook for its network of PSP's; understanding the measurable benefits of innovative solutions for the protection of its assets from tree root damage..
The outcome has been an opportunity to utilise the 'Fortress5' methodology, initially for the Roe Highway and Guildford Road sites. Fortress5 delivers a combined site preparation/site works/proprietary root barrier coating/reporting/warranty solution that has already been adopted by a number of WA Local Government organisations since its launch in 2020..
A proportion of the works will be undertaken in collaboration with DM Roads; the road network management and maintenance business of national operator Downer. Their expertise – developed over more than 20 years – has helped make DM Roads Australia's largest road maintenance provider.
Sales Executive Simon Shaw commented "We're delighted to continually build on the success of our Fortress5 service. This initial project for Main Roads' PSP network is further indication of the market confidence in our unique solution. We look forward to working with our colleagues at DM Roads and Main Roads in order to deliver a successful outcome. We value our reputation as a trusted suppler to Public Sector organisations and look forward to further opportunities within Local and State Government during 2022 and beyond."
For further information on how the Arbor Centre helps Local Government, Developers, Landscape Architects and other Contractors achieve best value for money for tree related activity, please call one of our Sales Team on 9359 9300 or get in touch today.
Image: courtesy of Building For Tomorrow