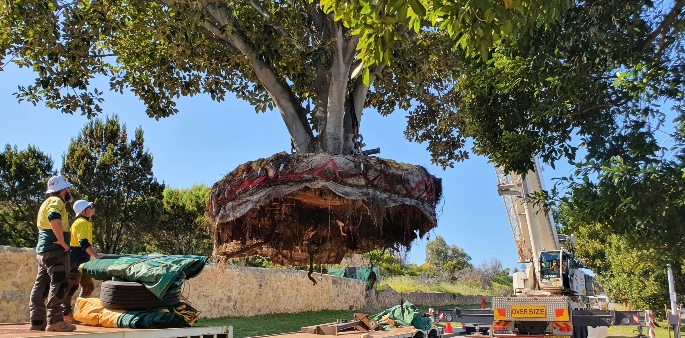 In late September, the Arbor Centre played a leading role in the relocation of a Moreton Bay fig tree to its new home in Fremantle's King Square
This was a significant project for the Arbor Centre that spanned over the course of a year and required our Tree Relocation exceptional expertise.
The relocation of the Moreton Bay fig tree
The tree weighed around 16 tonnes and its relocation needed to be handled with the utmost care. After months of preparation, the tree was transported through the streets of Fremantle on the back of a semi-trailer and then lifted into the Kings Square play space with a crane. The transport happened in the early hours of Thursday, the 24th of September, 2020.
The relocation was part of a $270 million renewal of Kings Square by the City of Fremantle and Sirona Capital.
Over the course of a year, the Arbor Centre supervised the project with Fremantle City's landscaping and engineering staff to prepare the tree, as well as organise the logistics surrounding moving such a large and mature fig tree.
Our work with preparing trees for relocation
The Arbor Centre boasts decades of experience in relocating trees and preparing trees fit for relocation. The process of relocating a tree from one place to another can be years long. This is especially relevant in the case of large-scale mature relocations such as the Moreton Bay fig tree.
The Arbor Centre has a specialised team that manage the complete end-to-end process of installation and prolonged care of relocated trees.
The Arbor Centre's scope of services also includes tree procurement, installation & monitoring, and aftercare. We are passionate about ensuring that trees will thrive and are well-suited for the conditions it will be moved into. So, for clients who engage us for this complete tree service, we are able to provide a warranty, which may range from 3 months to 1 or more years. This is a reflection of our confidence in the processes we follow.
The Arbor Centre was honoured to be a part of the Moreton Bay fig's installation and will play a key part in its continued care and growth.