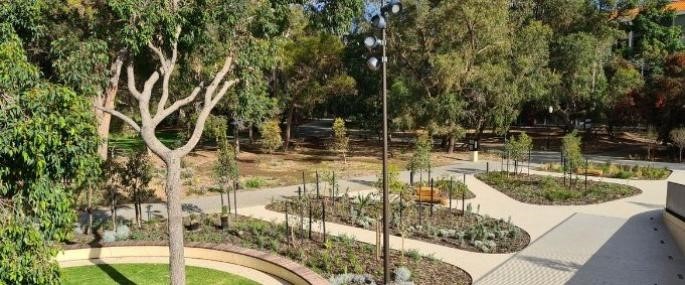 The Arbor Centre was engaged by the University of Western Australia (UWA) to assist with successional planting of trees – Corymbia calophylla (Marri) & Eucalyptus marginata (Jarrah) – during the redevelopment of the School of Indigenous Studies Building.
The brief for our work with UWA
As part of the design process Consultation and Implementation (that included Indigenous Elders, Architects, Landscape Architects and Arboriculturists), the Arbor Centre was requested by UWA to include the 100L and 45L Juvenile Stock of Successional Trees in the design. These trees were removed due to conflict with design.
Arbor Centre was engaged from an early stage to collect the seed from individual specimens, germinate, facilitate growing/nursery works and at a later date provide the stock for inclusion into the final design of the School of Indigenous Studies Landscape.
Our team were contacted throughout the development to successfully organise and protect the successional trees being delivered and planted onsite.
Our consultancy and tree planting services
Due to the significance of the trees that were removed from the School of Indigenous Studies site and the specific works required for seed collection through to implementation, the Arbor Centre's expertise and experience was sought by UWA.
Our input provided assurance that the successional trees planted were of the highest standard, delivered safely and in a cost-effective manner.
From seed collection to planting
This project was delivered in stages, starting with seed collection from the specified mature trees onsite that was not compatible with the development.
The germination and growing of these successional plantings were undertaken by a qualified nurseryman, under the supervision of Arbor Centre.
The trees were potted on and root pruned (as per the Australian Standards AS 2303 'Tree Stock for Landscape Use') by Arbor Centre until they were required to be delivered onsite.
Arbor Centre then delivered the successional trees to the School of Indigenous Studies Building and planted them as per the Standards mentioned above. The Arbor Centre is one of the very few organisations in WA able to carry out this specialist work to the desired standards and provide successful outcomes.
The result
Based on the Consultation, Supervision and Works that our team performed, the numerous successional trees were able to be incorporated into the development of the School of Indigenous Studies building. There, they will be retained and managed healthily for many years to come.
As WA's leading arborists and tree specialists, the Arbor Centre is proud of our continued contribution to help to retain and succeed trees of significance and heritage value within the urban environment.
More information
The Arbor Centre has decades of experience in specialist growing and planting of successional trees throughout Western Australia. We have a dedicated Arboricultural Consultancy team that are called upon by Local Government, Education Institutions, Developers and Landscape Architects to provide specialist support for successional trees in the urban environment.